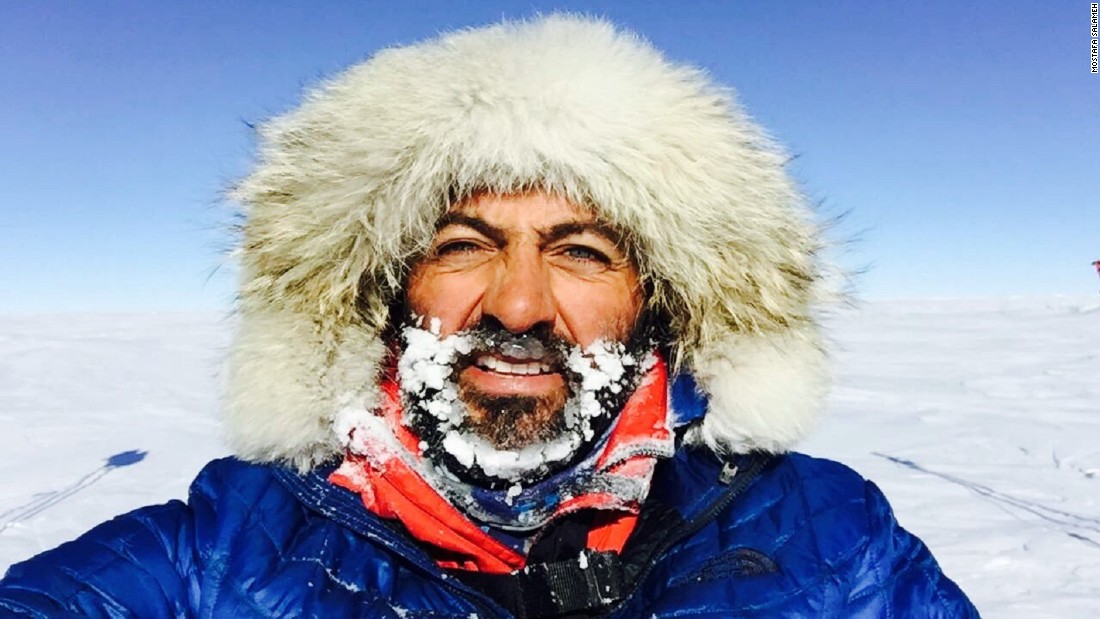 (CNN)In 2004, Mostafa Salameh had a vivid dream: he was praying for peace on the top of a mountain.
"I woke up sweating and I saw myself on top of the world," Salameh tells CNN.
Back then, Salameh had no expedition experience, little money and couldn't have pointed to Mount Everest on a map.
Fast forward to 2017, and he has become the first Arab to complete the "Explorers Grand Slam", which entails climbing the Seven Summits, including Mount Everest, and reaching the North and South poles. Only 15 other people have ever achieved the Grand Slam.
His amazing life has now become the subject of an international book, published by
Bloomsbury
and endorsed by King Abdullah II of Jordan and British adventurer Ranulph Fiennes.
"Mostafa Salameh claims each of us has an Everest within us; this book persuades us we can all achieve our goals if we have the courage to begin trying," Fiennes wrote.
Dreams of a refugee
One of nine children, Salameh was born to Palestinian parents in Kuwait, where he grew up in acompound for Palestinian and Syrian refugees.
"We lived in a refugee camp in three small rooms — one had nine bunk beds in the common room which was also the kitchen and my mum and dad slept in another room."
Aged 18, Salameh relocated to Amman, Jordan, where his family joined him several years later during the Gulf War.
Salameh found work as a waiter. His life was like that of thousands of other refugees across the Middle East, until the brother of Jordan's ambassador to England came into his restaurant.
He mentioned that the ambassador was looking for someone to work in the kitchen of his London house.
"I was serving him and he said, 'Do you want to come to London?'" Salameh says.
That was 1992. His stint with the ambassador lasted for one year, after which Salameh continued living in the UK as an illegal immigrant, earning a living working in kitchens, and dedicating much of his time to improving his English.
In 1998, he moved to Scotland to study hotel management at Queen Margaret University and, subsequently, became food and beverage manager of a 5-star hotel.
While living in Scotland, he says he disconnected from Islam and embraced the drinking and clubbing side of British culture.
Then, in 2004, he had the dream.
Explorers Grand Slam challenge
Almost immediately afterward, Salameh stopped partying, smoking and began training for the Explorers Grand Slam.
The biggest challenge was finding the money to fund his adventure.
"I went to Jordan for two weeks and tried to get a sponsor but everyone thought I was totally mental," he recalls. "Nobody climbed mountains back then. We thought these things were for Westerners."
In the end, support did come from his home country, but in a very round about way. An article about Salameh's aspirations in Edinburgh newspaper The Scotsman made several references to King Abdullah II of Jordan, in a plucky bid to get his attention. It worked and Salameh was invited to Jordan to meet the king's representatives.
They said they would fund his training in Nepal, Tibet and North America and, if he was successful in climbing Denali, would also provide financial backing for his Everest attempt.
"They said if I couldn't climb the highest point in America then I should just leave (my dream) because maybe it's not for me," Salameh says.
"It was a big budget. From 2004, until I went to Everest for the first time in 2005 you're talking about $200,000 to $250,000."
He spent the money on his training, gear, accommodation and day-to-day living.
"(King Abdullah) was the first who believed in me. Then other companies in Jordan started to believe in me because he did," Salameh says.
He received financial support from Infrastructure group Manaseer, telecommunication network Umniah, Jordan Kuwait Bank and pharmaceutical company Hikma.
Third time lucky on Everest
First, Salameh tackled the highest points in North America (Denali — 20,310 feet) and Antarctica (Vinson Massif — 16,050 feet), then he set Mount Everest in his sights.
Read more: http://www.cnn.com/2017/06/13/middleeast/mostafa-salameh-everest-inside-the-middle-east/index.html